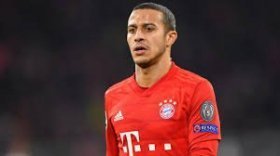 The reason why there is "but" in the headline is because even though

Georginio Wijnaldum

is the target that Barcelona's board of directors should aim to sign; simply to follow

Ronald Koeman

's requests, the board members at Barça who are willing to sign Thiago Alcántara are seven years late on their decision to give him a chance at Barcelona. 

It is simple: the board should respect the manager's decision and sign Wijnaldum.
Instead, Josep Maria Bartomeu and his board have decided that Thiago Alcántara is the right man to play alongside Frenkie De Jong in the midfield. The board, who back in 2013, under Sandro Rosell, sold the Barça academy midfielder to Bayern Munich for 25 million euros, calling him "a reserve." Now, this same board, has decided that at 29 years old, Thiago's time to shine at the Camp Nou has arrived. Apparently, the player is nowadays more promising than at 23.
The decision to place trust on Thiago had been taken seven years late, and not for footballing reasons precisely, but because of the political symbol it would mean for the board to sign back a "prodigal son," especially considering the scrutiny that Bartomeu and his board are under. Drowning kicks of a cornered board.
Please don't get me wrong. I am fascinated by the way Thiago Alcantara organizes, distributes, and associates through the pitch. Seven years ago, it would have been a smart choice to keep him instead of selling him to Bayern. I am not saying that he would have met the silly unnecessary of him being 'the new Xavi,' however, he was a capable successor for a midfield that needs part of his chief staff to be La Masía graduates, and understand (what should be) Barcelona's philosophy.
The fact of the matter is that Koeman asked to sign Wijnaldum, and, he was promised by the Board to have decision-making power (or at least that is what their official press have assured), however, it seems that this is not the case.
Written by Alfredo Rodríguez