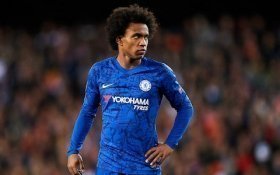 Willian was reportedly keen on remaining with Chelsea until it became apparent that they had little interest in meeting his contract demands.

The Brazil international had pushed the Blues' hierarchy for a three-year contract, but they were adamant that they would not extend his stay for more than two seasons.
Hence, he parted ways with the club after his contract expired earlier this month and he has since signed for Arsenal, who were happy to meet his demands for a three-year deal.
According to ESPN, Willian had been open to staying put with the Blues, but he was left feeling discredited after the board declined to offer him a three-year deal despite his commitment over the past seven years.
Manchester City, Manchester United and Bayern Munich were all in the running to sign Willian before the Gunners won the race for his services. He is said to earn around £100,000-a-week.
Willian has also been handed a significant signing-on bonus by the Gunners and reports claim that the club have included the option for another 12 months.